EDI integration with Brightpearl.
Automate documents and reduce errors with Brightpearl Integrated Fulfillment (EDI) from SPS Commerce.

Built for Brightpearl
SPS Commerce Fulfillment (EDI) integrates seamlessly into your Brightpearl ERP system and offers immediate access to thousands of pre-built connections to leading online and physical retailers, grocers, wholesalers, 3PLs and more.
The outsourced solution handles your most complex fulfillment requirements quickly and easily, helping you become EDI capable and compliant with all your retail and wholesale trading partners.
As your EDI department, we take a full-service, end-to-end approach. This means your team will spend less time and money on data entry, troubleshooting issues, testing maps and responding to trading partner changes.
Achieve compliance with all your trading partners' EDI requirements through a single point of integration.
Support all retail channels, including direct-to-consumer (drop shipping), ship to store and ship to DC.
Enhance communication with your trading partners and reduce order processing time and errors by removing the need to re-key data.
Handle spikes in order volume, especially during the busy holiday season.
Provide a streamlined user experience as SPS Fulfillment is embedded within your Brightpearl ERP system.
Adapt to your trading partners' needs as the full-service SPS team proactively manages new, changing and complex trading partner requirements on your behalf.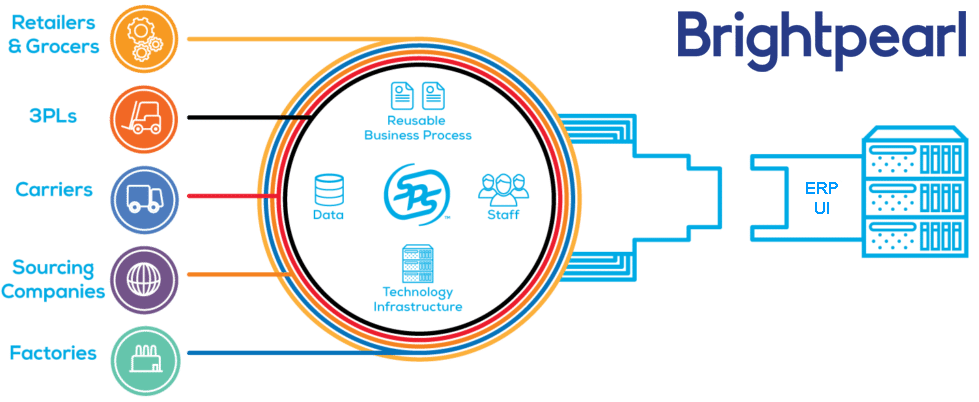 Within SPS Fulfillment, you can easily exchange EDI with more than 80,000 trading partners including top e-commerce and multichannel retailers and wholesalers:

SPS Commerce is a trusted EDI provider that helps thousands of online and retail businesses speed up processes and boost efficiency.
Decrease or eliminate manual entry needs
Reduce hours spent with manual data entry on documents such as invoices and purchase orders when you integrate your Brightpearl ERP to connect with all of trading partners via EDI. Retailers, vendors and brands working with SPS have been able to cut hundreds of hours in manual data entry tasks.
EDI support for multichannel customers
Integrate your Brightpearl ERP system to the SPS EDI solution to quickly achieve compliance with all of your trading partners' documentation processing needs, including ship-to-distribution center, ship-to-store, drop shipping and more. When your trading partners' specs change, SPS makes the adjustments for ongoing compliance.
Scale to size while gaining efficiency
With our Brightpearl integrated EDI solution, discover new trading partners, onboard them quickly and better prepare to scale for your business's future growth. A one-time integration with SPS Commerce offers immediate access to thousands of pre-built connections to leading retailers, grocers, wholesalers, vendors, brands, 3PLs and more.
Trim total cost of ownership (TCO) for EDI
An annual subscription rate for integrated EDI service through SPS Commerce costs typically significantly less than the expense of a traditional in-house EDI department. Many businesses that have outsourced their EDI to SPS have experienced savings of 20 to 30 percent.
Why choose SPS Commerce?
Over 80,000 businesses count on SPS Commerce to keep their companies' transaction needs running smoothly. And, SPS is already connected to many of your existing trading partners and with your future customers to make your implementation even easier. To help support your business, SPS Commerce offers:
Automation of EDI transactions with any trading partner.
A data center engineered to process huge surges in transaction volume.
Want to learn more about integrating your Brightpearl ERP with a proven EDI solution?
An SPS representative is ready to help you design an efficient integration rollout and help you take the next step to a streamlined EDI solution.